OPEN ON 1st AND 8th MAY
SEASON 2019
1 April – 30 September
(close on Wednesday in April, May and September)
week-ends in october, every day during the All Saints'holidays
***
castle: 11am-12.30 / 2.30pm-6pm
gardens: 10am-12.30 / 2pm
The most northerly château of the Loire Valley.
Le Lude, a family home and a historic monument.
Located on the crossroad of the regions of Anjou and Touraine, between Le Mans and Tours, Le Lude is the most northerly château of the Loire Valley.
Le Lude is one of the last remaining important historical castles in France, which is still lived in by the same family, and has been for the past 260 years.
Four centuries in one place! The château is an example of four centuries of French architecture. A fortress transformed into an elegant palace-looking house during the Renaissance and the 18th century.
Both adults and children alike, will be enchanted by its refined interiors, but also by its gardens, labyrinths, stables and its dungeon; expect a visit full of surprises!
Try not to miss out on the well-known Garden festival on the first week-end of June!
Le Lude today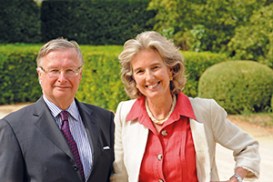 Since 260 years, the house is in the hands of our family. Together with the staff helping us, we are happy to welcome you to the Château du Lude, and share with you a living testimony of the French history, but also our family home and one of the most impressive castles in the Loire Valley.
Try not to miss our summer events like the Garden show and the Gourmet days.
We wish you a pleasant visit !
Count and Countess Louis-Jean de Nicolay
Testimonials
We are castle-hopping in France, having a great time visiting Le Lude and the beautiful gardens.

Our daughter (aged 4) loved to follow the visit with her fancy dress. What a good idea !

Une belle évocation de l'Histoire, et nous apprécions l'ambiance vivante de ce château habité !